Adrienne Poullas - Aquatic Coordinator, Aquatic Fitness Instructor
Hi all! I started here at HCP as a participant, and immediately fell in love with all things aquatic fitness. I started teaching Hydrospin in summer 2017 and received my AEA Certification that December. I started teaching on deck not long after my second son was born in 2018 and received my American Council on Exercise Group Fitness Instructor Certification in 2019. I've attended our international Aquatic Fitness Conference in 2018, 2019, and 2020(virtually). I love being on deck, teaching, instructing, motivating, and inspiring my students so much, I applied for the aquatic coordinator position in March 2020 when it became available. I was hired that same month and accepted the position during the Covid-19 pandemic, which has proved to be a weird, but exciting time to take over. I am looking forward to help grow our programs and continue the successes of the Hubbard Community Pool! When I'm not at the pool, I'm hanging out with my three boys, Jordy, Roscoe, & Ziggy and my Air Force Husband, Nick.
SPECIALTY: Hydrospin, HIIT workouts, Intervals
Certifications: AEA, ACE GFI, WATERinMOTION PLATINUM, HYDROREVOLUTION(AQUASTRENGTH & AQUALOGIX), AQUA STAND UP, CERTIFIED POOL OPERATOR, SAFESPORT TRAINED, CERTIFIED S'WET INSTRUCTOR
DARLA EVANS - LEAD ADMINISTRATIVE ASSISANT

Hello, I'm Darla Evans. I started at the pool in March of 2014 when I was hired as an evening and weekend secretary and continued in that position until 2017 when I stepped into the role of Lead Administrative Assistant. My professional background is in graphic design and I've been able to do a little of that here at the pool along with my office duties. I've done t-shirt designs, logos, flyers, and signs pretty much since I started so, chances are, you've seen some of my work. In my spare time I like to do crafts, read, and spend time outside, no matter what weather northeast Ohio throws at us! Working at the pool has allowed me to meet so many new people, if you don't already know us here, stop by and I'll be happy to show you around.
Aaron Wirtz - Kraken Swimming Head Coach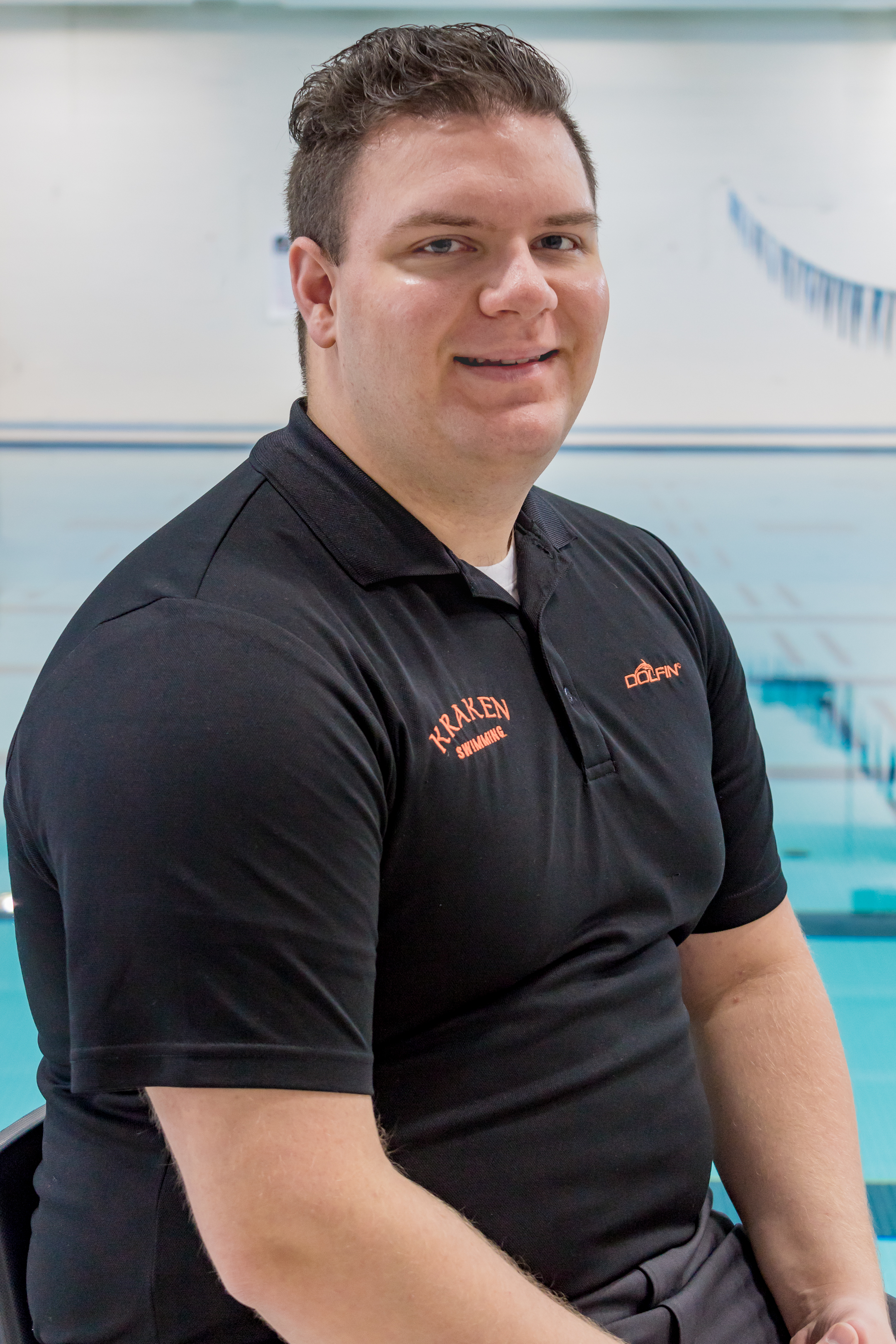 Kayla Aldan - Kraken Swimming Assistant Coach
Greetings! My name is Kayla, and my story begins with me being terrified of the water. My parents signed me up for swim lessons and for a while, I refused to get in. After becoming comfortable in the water, I joined the swim team at Boardman Tennis & Swim Club (BTSC). During the winter, I trained with Penguin Swimming and when I got to high school, I swam for Boardman High School where I was appointed captain my senior year, a State competitor, and a 4-year Varsity letter recipient. Upon graduation, I attended the University of Mount Union where I swam for 2 years and was a Varsity letter recipient both years. While I was in high school and college, I worked as an assistant swim coach at BTSC. I left the sport for a while before returning again in March 2018, and I started coaching again that summer for Kraken Swimming. It's not uncommon to find me hanging around the pool with my crochet and spinning projects.
Missy is a Certified Personal Trainer through the National Personal Training Institute(NPTI) & is a certified aquatic fitness instructor through AEA. Missy has over 15 years experience in training clients and athletes of all ages. Missy specializes in balance/fall prevention, stability, flexibility, proprioception, and neuromuscular efficiency. She believes teaching her clients the proper techniques of an exercise, and it's movements, is the most important aspect when developing any exercise program. Her other areas of focus include functional fitness, strength training, and hypertrophy training.
Missy spends her free time with her three children and being near the water. Whether it's fishing, boating, or hiking in her favorite park, Missy tries to live by the quote, "life is not measured by the number of breaths we take, but by the moments that take our breath away."
SPECIALTY: HIIT, tabata, intervals, corrective movement, arthritis, balance
Certifications: AEA, CPT with NPTI, CERTIFIED S'WET INSTRUCTOR
Missy DeMattio - Aquatic Fitness Instructor, Personal Trainer