premium class descriptions
ACQUABOXE
Acquaboxe combines the benefits of training in the water with the hottest moves and skills that are setting the trends today in Fitness Boxing, Martial Arts Defense, and Mind Body Conditioning. Aqua Combat offers an exciting, time efficient workout that builds on four essential ingredients: Self Defense, Self Awareness, Fitness and Fun! Come kick and punch your way into fitness.
ACQUAPOLE
It tones arms, shoulders, abdomen and legs. Here's how:
In lifting, the buoyancy helps the execution of the exercises without burdening the joints. In all exercises and grips, even in isometric hold, the abdominal muscles are essential for the correct execution of all the positions. In all the workouts and dynamic exercises, the muscles of the legs and arms are involved.
HYDROSPIN

Hydropsin is a spinning class set in water. This intermediate/advanced paced class, provides a full body workout and is both challenging and restorative.
Your body will reap all the benefits of underwater exercise – increased blood flow, improved cardio endurance, and low impact - while sculpting your silhouette and reducing the appearance of cellulite.
AQUASTRENGTH

Aquastrength is a full body strength class fully set in water. With the use of drag resistance bells, leg fins and long barbells, this class is great for novice and seasoned athletes. This class will drive up your heart rate and build strength at the same time.
Exclusive equipment you won't find anywhere else locally! Enjoy this full body workout over and over while you start to physically change your body!
JUMP! H20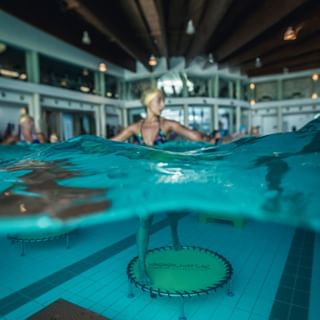 This class features a trampoline created specifically for the water. Increase strength, balance, and metabolism with this underwater plyometric workout! The combo of the water's natural resistance and the choreographed moves provide a full body workout for participants of all levels.
TABATA

Based on research of Dr. Tabata, this class is an invigorating type of workout geared specifically towards fat loss. Each tabata has eight(8) cycles of 20 seconds of hard work, to 10 seconds of rest, and there are eight(8) tabatas in a class. This HIIT(high intensity interval training) class will challenge your body and burn fat cells!
AQUA STAND UP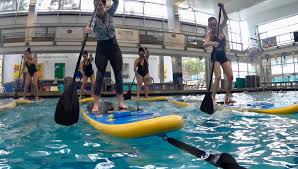 This class is a full-body workout to improve balance, strength, and coordination. Using an inflatable paddle board secured to the wall, you will do squats, push-ups, lunges, core work, yoga, and more. Don't be afraid of falling off! This workout is great for improving upper-body strength!
Want to try a premium, but can't decide which one?! Look no further! This class will feature four different circuits, each one using a different piece of equipment from one of our premium classes. This workout covers EVERYTHING - cardio, strength, endurance, balance - hence the name KITCHEN SINK!
HOW TO SIGN UP!
We have made the sign up process simple as we can! Check the schedule below to decide which premium class you'd like to take. However, spots in classes are first come, first serve, so make sure you sign up ASAP. There is always a chance that we are sold out due to limitations on equipment. Some classes like HydroSpin and Acquapole are limited to 6 people whereas Aquastrength and Tabata are limited to 8-10 people.
Purchase and Schedule Your Classes
Once you have decided you're ready to try any of our premium classes the first thing to do is stop by the front desk or call us to purchase a package of 8 classes. After your classes are purchased, you can then begin to reserve the classes that fit into your schedule. The 8 classes can be used on any premium class listed on the schedule.
IMPORTANT: You must cancel within 24 hours of a class or else you will lose the class. You are welcome to book all 8 classes at once or you can book a few at a time. Just call or stop in and the secretary on duty will take your reservation.
Cost for block of 8 clases: Non-Member $60, SilverSneaker $50, Member $40.