AQUA COMBAT
Aqua Combat combines the benefits of training in the water with the hottest moves and skills that are setting the trends today in Fitness Boxing, Martial Arts Defense, and Mind Body Conditioning. Aqua Combat offers an exciting, time efficient workout that builds on four essential ingredients: Self Defense, Self Awareness, Fitness and Fun! Come kick and punch your way into fitness.
ACQUAPOLE
The Acquapole® Fitness classes, including splashing and music, are totally fun and never repetitive! That's why Acquapole® manages to involve those who usually find classic lessons in the pool boring!
Who said then that Acquapole® is only for female users? Inserting the Boxing Bag and T-trainer accessories, Acquapole® transforms into a multifunctional aquatic workstation, providing a super-workout and always very, very fun!
YOQUA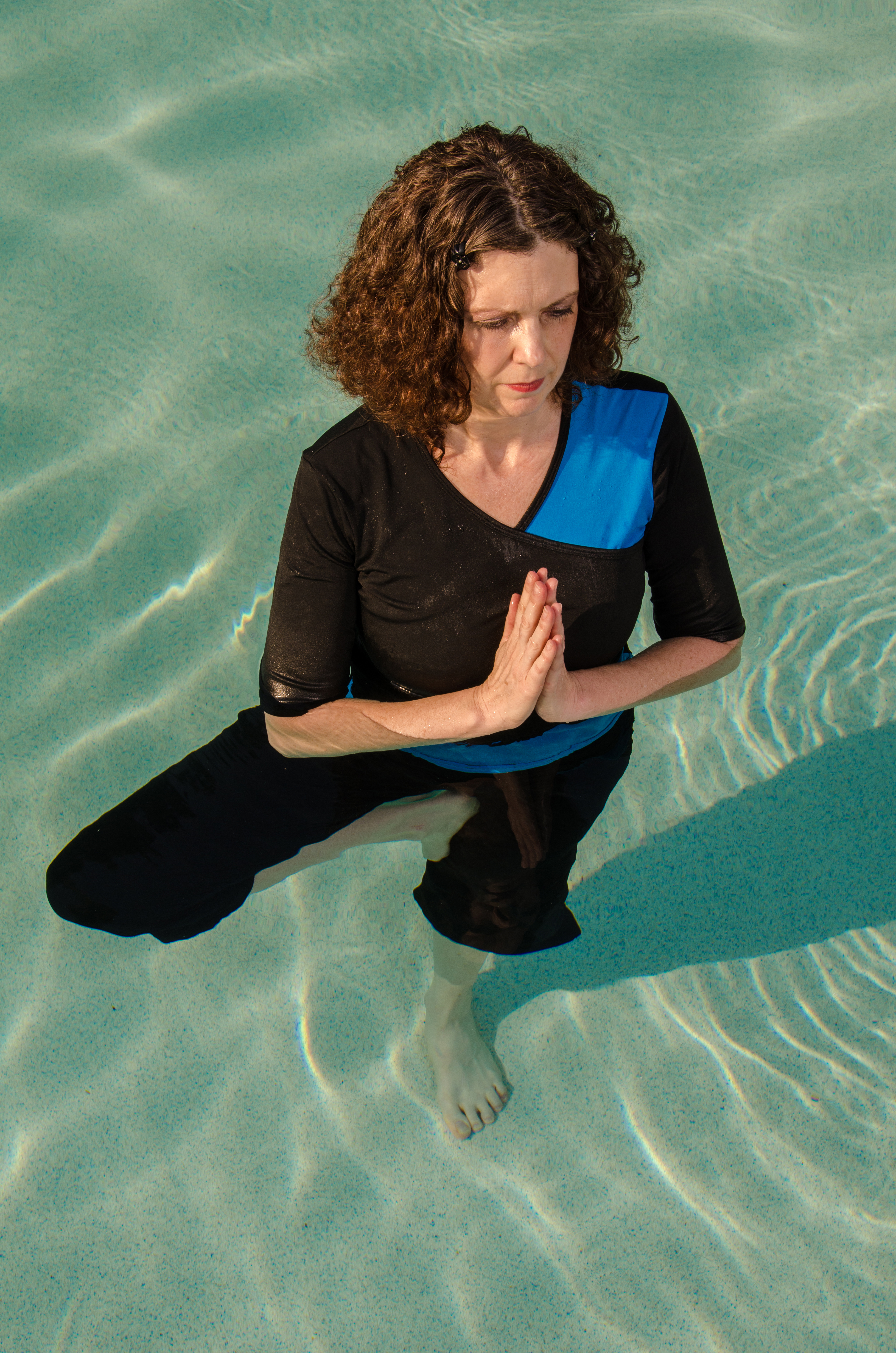 Yoga is centuries old, but yoga in the water is still in its infancy. Using Iyengar style of yoga, poses are transitioned into the water in form and alignment as close to land practice as permitted. Water adds additional isometric strengthening, range of motion, and depth of breath to your yoga practice.

This class has been developed to help release all stress and tension through guided flowing movements. Let yourself go, relax and re-energize yourself for the rest of your day.
AQUA CYCLING
HydroSpin is an exclusive class that is being offered at the Hubbard Community Pool. Each class is taught by a certified instructor and uses state of the art HydroRider bikes made in Italy. Some of the benefits to HydroSpin are cellulite reduction, thinning/toning/shaping of the legs and great upper body and core work! This is a FULL body workout!
AQUASTRENGTH
Aquastrength products tell their own story. Water equipment designed to build strength! With the use of drag resistance bells, leg fins and long barbells, this class is great for novice and seasoned athletes. Pushing these aquatic tools through the water will drive up your heart rate and build strength at the same time.
Exclusive equipment you won't find anywhere else locally! Enjoy this full body workout over and over while you start to physically change your body!

Tabata was developed in the 80's in Japan. A very specific form of HIIT (Highly Intense Interval Training) Training, participants work as hard as physically possible for 20 seconds while passively resting for 10 seconds. Each Tabata has 8 cycles and there are 8 Tabatas in a class. This work ratio is proven to specifically target FAT LOSS! Sometimes equipment is used and others it is not -- check out this unique class and start burning fat cells!
Hi-Yo
This interval class combines high (Hi) intensity and yoga (Yo) for a uniquely exhilarating and relaxing combination. The class consist of 10 minutes of hard High intensity training with 5 minutes of relaxing stretching through yoga positions that are modified for the water. You will leave the class with a positive and balanced mind and body!

HOW TO SIGN UP!
We have made the sign up process simple and painless and you have the option to sign up from the convenience of home! We use the schedule below to let you know which classes are on which days. However, just because a class is listed does not mean that the class is available. There is always a chance that we are sold out due to limitations on equipment. Some classes like HydroSpin and Acquapole are limited to 6 people whereas Aquastrength, Yoqua and Tabata are limited to 8-10 people.
Purchase and Schedule Your Classes
Once you have decided you're ready to do any of our premium classes the first thing to do is stop by the front desk or call us to purchase a package of 8 classes. Once you have purchased 8 classes you can then begin to reserve the classes that fit into your schedule. A secretary will help you pick which classes are open. Again, use the schedule below as your guide and be sure to try out all of the classes because you may like more than one! The 8 classes can be used on any premium class listed on the schedule. IMPORTANT: You must cancel within 48 hours of a class or else you will lose the class. You are welcome to book all 8 classes at once or you can book a few at a time. Just call and the secretary on duty will take your reservation. Cost: Non-Member $50, SilverSneaker $42, Member $35.